Hello,
Un petit projet de long terme, un thème versatile de base simple, totalement fonctionnel par défaut, avec son système de
vidéos customisables
.
Il peut être utilisé tel quel ou servir de base pour un thème très complexe ou chaque système propose son propre visuel et sa propre gamelist que ce soit une liste une grille ou un carrousel.
Ainsi il fonctionne comme un thème avec des modules, vous dupliquez le template de base et le renommer en megadrive, dès lors la megadrive perd le visuel par défaut et devient un thème à part entière à construire de zéro. Vous supprimez ce dossier la megadrive reprend le visuel de base.
Cependant une fois le système créé, vous pouvez à l'intérieur du fichier template ainsi renommé choisir de conserver la vue système par défaut et indépendamment sa gamelist, pour ne personnaliser que l'un ou que l'autre.
La où je conçois ce thème comme un projet à long terme, c'est que petit à petit je créerai des systèmes personnalisés, cela prendra du temps,
aussi j'invite tous ceux qui souhaitent s'expérimenter à la création à utiliser ce thème et se lancer sans stress sur un système. J'ajouterai volontiers les systèmes bien réalisés et proposerai les créations alternatives sous forme de téléchargement séparés dans une branche dédiée du GitHub.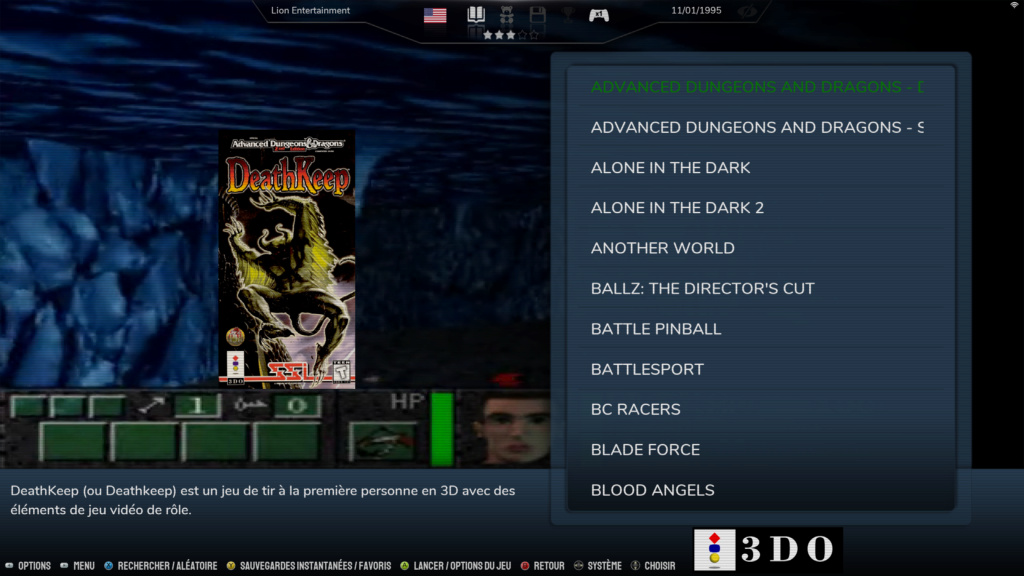 Extrait du readme.md du thème:

-------------------------------------------------------------------------------------------------------------------------------

# es-theme-QUANTUM
Retrobat 4.0+ & Batocera V31+ Theme. Differents themes articuled around base.


IMPORTANT: Quantum have default visual, but can be entirely customized by system, as when you duplicate and rename a template folder, default theme is desactived for this system.

You can also only create a empty folder named by theme to add custom ARTWORKS !

Carousel,logos, systemInfo, systemText (games infos), bgsound are predefined in general systemview. So don't define them in system themes.
Helpsystem, menus, controllerActivity, batteryIndicator, static effects are predefined too so don't try to define them..

Carousel, systemInfo and SystemText are defined to disappears 1.5 seconds after system choice.

CUSTOM ARTWORKS:

You can add you own music in mp3 or ogg in your system folder using this way: megadrive/music.mp3 or snes/music.ogg etc..

You can use you own logo in .png or .svg in your system folder using this way: megadrive/logo.png or snes/logo.svg and for regions logo_us and logo_jp etc..

You can use you own game scroll sound in .wav in your system folder using this way: megadrive/scrollGame.wav

ADDING SYSTEMS:

To add a system, duplicate a template folder and rename it.

Define system view with all you want except few object explained in template.

Define only one gamelist view (basic or detailed or video or gamegrid or gamecarousel) and define automatic view in your quantum.xml file.

-------------------------------------------------------------------------------------------------------------------------------
Télechargements
sur la page du Github, soit vous chargez le
master
qui contiendra au fur et à mesure les systèmes customisés, soit vous prenez le thème vide dans les
Releases
.
Page du Github:
https://github.com/lehcimcramtrebor/es-theme-QUANTUM
Venez sur le discord de Retrobat section thème si vous désirez vous lancez.

lehcim




Messages

: 51


Date d'inscription

: 2019-10-28



Lorenzolamas, LUXBUIO and safetynotgaranteed like this post
---
Permissions in this forum:
You
cannot
reply to topics in this forum