Bonjour à tous,
Voici le thème ComicScrap, inspiration et carrément adptation du thème original ComicBook de TMNTturtleguy, retravaillé pour un affichage hd et utilisant vidéos et images scrapées pour alimenter les systèmes.
J'ai refait les plus de 250 logos moi-même en essayant de m'inspirer de l'original.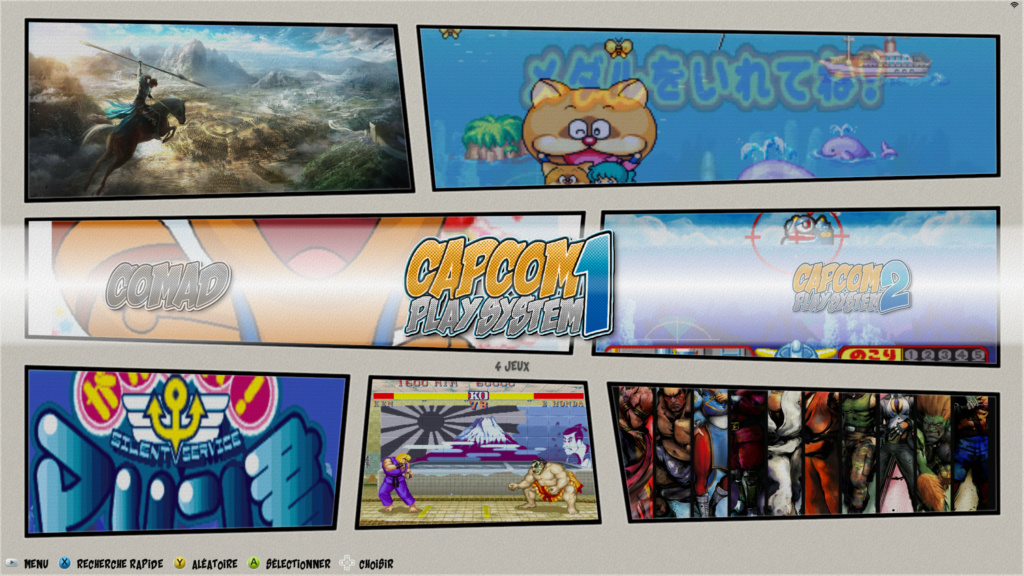 Beaucoup d'option à explorer, vous pouvez notamment choisir d'afficher ou non les vidéos aléatoires sur plusieurs mix de tuiles entre 1 et 7 vidéos, ajouter les vôtres. Ajoutez également vos images persos, votre musique etc.. tous les fichiers contenant les explications se trouvent dans le thème.
Vous pouvez également recréer vos propres logos depuis Gimp, tout le nécessaire (caractères, préréglages et méthode en vidéo) se trouvent dans une archive dans les assets.
Téléchargement:
https://github.com/lehcimcramtrebor/es-theme-comicscrap/archive/refs/heads/master.zip
Amusez-vous bien.
J'ajoute une méthode en vidép pour que vous puissiez aisément customiser vos images:
Last edited by lehcim on Wed 7 Apr - 21:54; edited 1 time in total

lehcim




Messages

: 40


Date d'inscription

: 2019-10-28



Lorenzolamas, fredanas, Virtualman, getupor and Icarus like this post
Merci pour ce thème, les logos sont vraiment bien.
Tip-top

triki1




Messages

: 19


Date d'inscription

: 2021-02-10



Excellent theme , reminds me of Pi comic theme but on steroids' with v7 framework looks amazing!  Great work!

Will it support all these systems at a minimum? 75+ (ignore if folder's don't exact match but we are adapting es_system regardless)

V:\RetroBat\roms>dir /b
3do
3ds
amiga
amigacd32
amstradcpc
arcade
atari2600
atari5200
atari7800
atarijaguar
atarilynx
atomiswave
c64
channelf
coleco
daphne
dos
dreamcast
famicom
fds
fpinball
gameandwatch
gamegear
gb
gba
gbc
gc
genesis
intellivision
mastersystem
model2
model3
msx2
n64
n64dd
naomi
nds
neogeo
neogeocd
nes
ngp
ngpc
odyssey2
openbor
ports
ps2
ps3
psp
pspminis
psx
saturn
scummvm
sega32x
segacd
sfc
sg-1000
snes
snescd
switch
teknoparrot
tg16
tg16cd
ti99_4a
triforce
vectrex
virtualboy
vpinball
wii
wiiu
windows
wonderswan
wonderswancolor
x68000
xbox360
zxspectrum

Merci

Virtualman




Messages

: 84


Date d'inscription

: 2020-08-10



support is only assured by presence of logos.. so 250+ Systems for now.. if a logo is missing ask for create it or use templates in theme with gimp to create as logos as you want, video demonstration is in theme.


lehcim




Messages

: 40


Date d'inscription

: 2019-10-28



Virtualman and getupor like this post
@Lehcim
- brilliant work and amazed how theme leverages all artwork/video snaps.
Disregard this request - i managed to make them all and followed same style!
Sincerely,
VMAN
Last edited by Virtualman on Mon 12 Apr - 2:24; edited 1 time in total

Virtualman




Messages

: 84


Date d'inscription

: 2020-08-10




lehcim




Messages

: 40


Date d'inscription

: 2019-10-28



---
Permissions in this forum:
You
cannot
reply to topics in this forum